How it works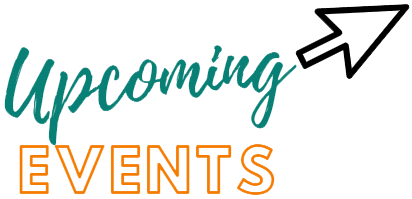 The easiest way to find and promote
life-enriching

experiences for

older adults.
There are so many great activities and programs for adults over 50, organized by top-quality event hosts around the world, but they can be challenging to find. We take the stress out of the search by curating them for you, making it easier than ever to find and promote experiences that help us stay social, active and engaged as we age.
Events for adults over 50, hosted by recreation specialists world-wide.
With a variety of in-person, virtual, and phone-accessible events on the calendar, you can quickly and easily browse a wide range of activities provided by organizers across the world!
Browse the calendar for upcoming events and activities.
Mark events as a favorite, share them on social media, or register right from the page.
Enjoy! Tell your friends about it and invite them to join you next time!
Is this website free to use?
You bet it is!
It is always free to search for events and create an account. Since the events are hosted by different organizers, the cost to attend will vary in price. The event price will always be displayed at the top of the event profile and will be marked FREE if there is no ticket fee.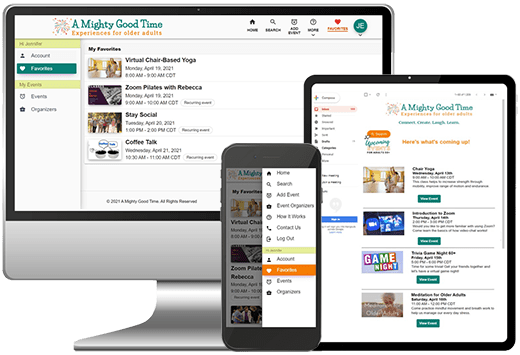 Create your free account.
While you don't need an account to browse the calendar, having one lets you save your favorite activities all in one place. You can also sign up for email notifications so that you will be the first to hear about upcoming highlighted events!
Are you an event organizer?
We'll help you promote them to the 50+ community!
We know how challenging it can be to find an effective way to get the word out about your events. That's why we created a free, simple to use online tool to help you reach your desired audience.
Frequently Asked Questions
Is it free to use this website?
Yes! It's free to browse the calendar and to create an account.
Events are hosted by different organizers and so each event has a different price. The price of the event will be listed at the top of the event profile. If the event is FREE, it will indicate that in the price description.
I need help with my account and using the website.
I need help registering for an event.
Please contact the event organizer with any questions about the event itself or assistance with registering for the event. If you do not hear back from the event organizer after reaching out to them, then please contact us directly.
How do I contact you if I need help or have more questions?
If you have questions about your account, please view the Support Tutorials below. If you still need help, please contact us by clicking HERE .
Support Tutorials
On the website menu at the top of the page, click "Log in." On the next page, click the button that says "Create Free Account" (it's underneath the fireworks logo). If you're ready to proceed with this process now, click HERE to go to the create account page, or, continue reading the directions below before proceeding.
You will be prompted to enter your name, email address, and create a password. We will send an email to the address you provided, asking you to validate it. Make sure to check your spam folder. If you don't see an email from us, even after checking your spam folder, call us and we'll get you set up right away! (512) 222-9855

Validating emails is one of the ways we make our website secure. Thank you for helping us continue to do that!

Our email will come from this address: support@amightygoodtime.com. Please validate your email by clicking on the link provided to you in our email. That link will take you back to the "Log in page" where you will be prompted to log in with your email and password.
After you log in, you're good to go! Anytime you want to explore the features of your account dashboard, click on your profile icon in the top right corner of the webpage. Your profile icon is the round circle with your initials inside.
We are sorry to see you go. If there is something we can do to make your experience better, please contact us!

To delete your account and all your events, organizers, and profile information, follow the steps below. Once deleted, your events will no longer be listed in the calendar and you will not be able to retrieve any of your event or organizer information.

To permanently delete your account, follow these steps:

To delete your account, click here to be taken directly to the Delete Account section on your account dashboard where you can complete the process. Please note that if you are not currently logged in when you click the link, you will be prompted to do so before being taken to the Delete Account section.
How to: change your password, edit your profile, change your email
Log into your account and then click on your profile icon at the top right corner of the webpage and select "My Account" from the drop-down list. This will take you to your account dashboard. If you are already logged into your account now, then click here to be taken directly to your dashboard.
You'll see your account profile, with your name at the top and email address underneath. Below that, you'll see the following buttons. Click on whichever one fits your needs and follow the prompts. If you are currently logged in, just click on the links below to go directly there
Questions?